Services
Effective July 1, 2019 all out call services will incur a fee of $35 within the New Orleans Metro area and $50 for appointments outside of New Orleans, but still within the state of Louisiana, unless otherwise discussed. Out of state or extended travel is priced on a case by case basis, please call or email to discuss.
The Agapé Signatures
Three "Agapé Touch" exclusive massages created to show my skill and expertise and embody the essence of the "Agapé" name. It's the love, compassion, and desire that fuels my mission to constantly evolve as a practitioner in order to better serve "YOU" as a client.
The Agapé Vibe
Medi-Cupping Therapy, Tuning Forks, & Aromatherapy come together in a custom massage with you in mind. This session of targeted bodywork will alleviate your pain and help you to relax mentally, physically, & spiritually.
The Meltdown
"Hot Stone Therapy" & "Medi-Cupping Therapy" team up to unwind tangled webs of stiff muscle tissue. Allowing you to experience a serene calmness in your spirit, a body that's liberated from pain, and a mind free of stress.
Cleansing Heat
Loose yourself in this sublimely crafted blending of healing energies from hot stone therapy, the uber pampering effects of a full body scrub accompanied by dry brushing, and the intoxicatingly relaxing aroma of lavender. As you may know, the heat energy from the stones deeply penetrates into the muscle tissue to ease pain, bring instant relief from fatigue & stress, and it also prepares the skin to receive the nutrients from the scrub. Not only that, you will also experience increased circulation of blood and lymph fluid throughout your body as well as exfoliating and hydrating your skin, leaving it with a polished look and smooth and soft to touch. Almost like giving you body a facial!!!
Heaven On Earth
The therapeutic benefits of Medi-Cupping mixed with the relaxing, sedative effects of Hot Stone Therapy lull you into a state of euphoria. You're then pampered with a Deep Cleansing Facial Massage, Express Foot Therapy with scrub, and an Aromatic Scalp Massage.
Custom Therapeutic Massage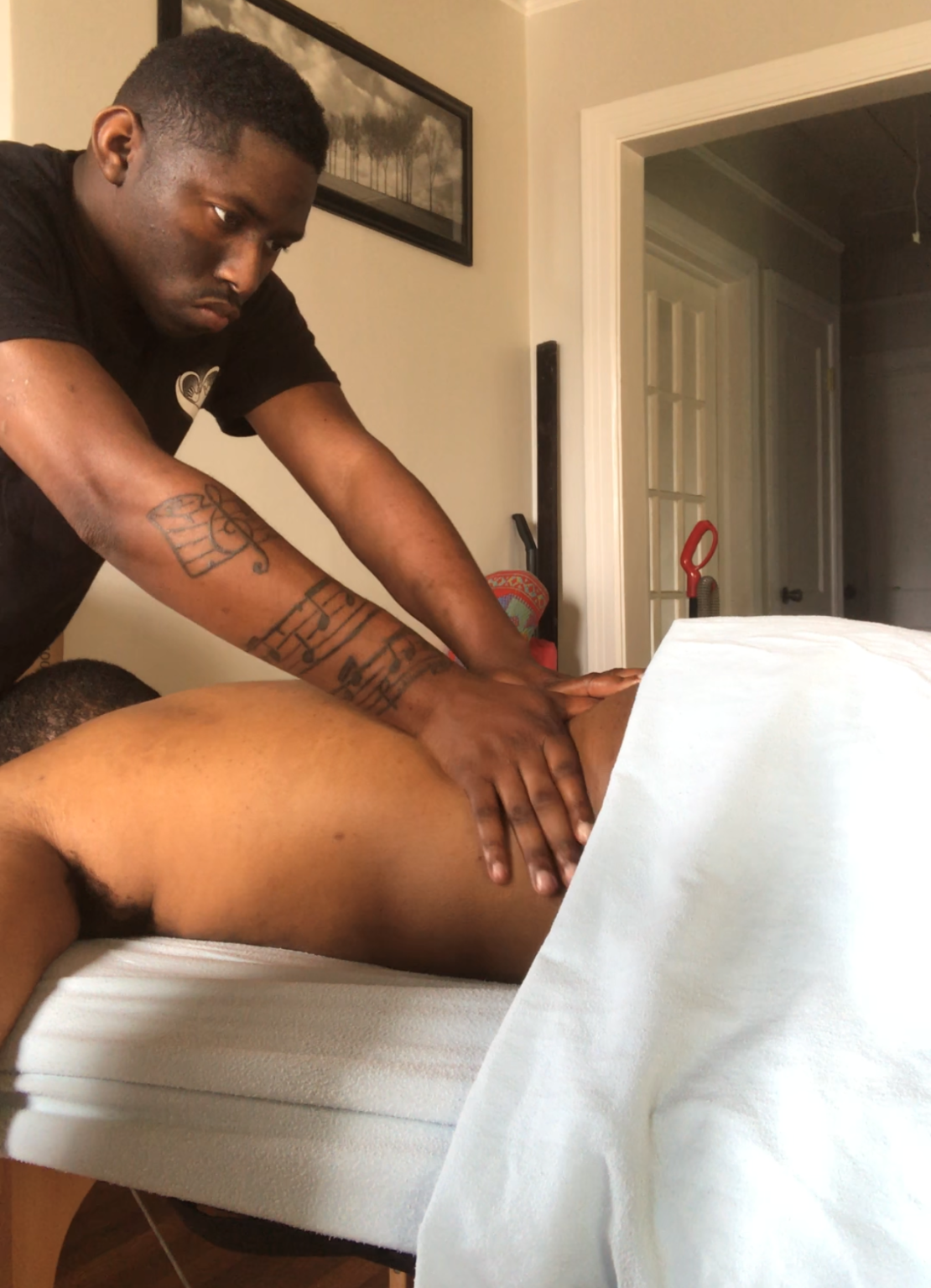 Fully customized service using varied pressure and a mixture of techniques such as deep tissue, lymphatic drainage, neuromuscular therapy, and myofascial release to treat injuries and discomfort, reduce pain and increase range of motion. Add ons such as aromatherapy, Heatwave, Hot Stone Facial, and Sugar Foot Scrubs, can be integrated into any session for an additional cost, prices are listed below.
Couples Massage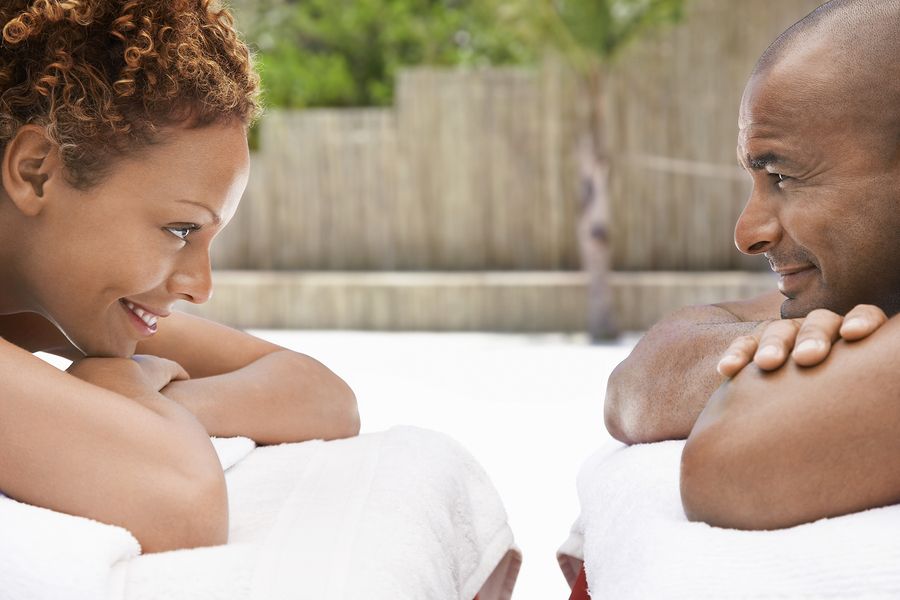 Share the benefits of a customized massage with a friend or loved one in the comfort of your home, hotel, or office. What better way to say i care or spend some quality time than this!
Exercise Therapy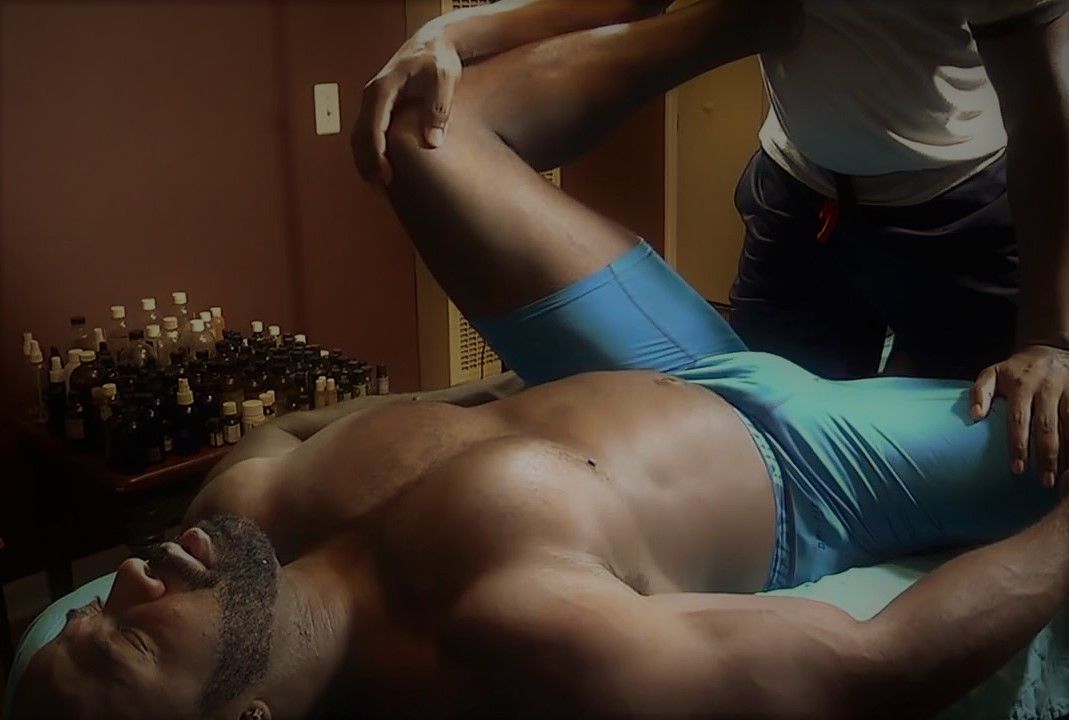 As you probably already know, stretching your muscles not only reduces your chance of injury, but also strengthens your tendons and improves your circulation. With that in mind I've put together a set of systematic movements, exercises, and stretching techniques to aide in recovery, injury prevention, and the maintenance of joint and muscle health. This service can be booked as an add-on or stand alone session.
Hot Stone Therapy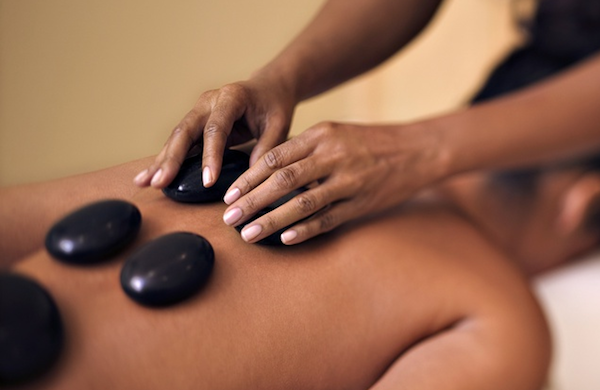 Hot Stone Therapy is a style of massage where heated stones are placed at specific sites on your body to deepen relaxation and promote circulation in your muscles. Muscles that are heated with these stones release tension and stress much more deeply and quickly than with a traditional massage. The overall experience is very relaxing, nurturing, and rejuvenating.
Relax with Agapé Class
Two hour course for groups, couples, or just those friends seeking to learn basic therapeutic massage techniques as a means of bonding or growing closer with a great interactive experience. This class is also a perfect birthday gift, anniversary celebration, Valentine's Day gift, or a fun change to date night! The class will begin with fun icebreakers and allows you the opportunity to learn proper techniques to avoid fatigue. No more quick rubs with your fingers hurting after 5 minutes, no aching hands or backs or wondering what to do next. After this class you will be able to safely and confidently perform the perfect full body massage. This class is designed to introduce you to the power of touch in your life and give you all of the massage skills that you will need to keep your partner or friend in heavenly bliss for the rest of your lives.
Lymphatic Drainage
Lymphatic Drainage Therapy aims to gently and rhythmically move the lymph through the body, especially swollen areas of the body, relieving pressure and enhancing the functioning of the immune system. As both a preventative and remedial technique, LD can be used for a wide range of purposes including faster recovery from injury, reduction of swelling and discomfort from pregnancy, and strengthened resistance to illness.
Chakra Balancing/Tuning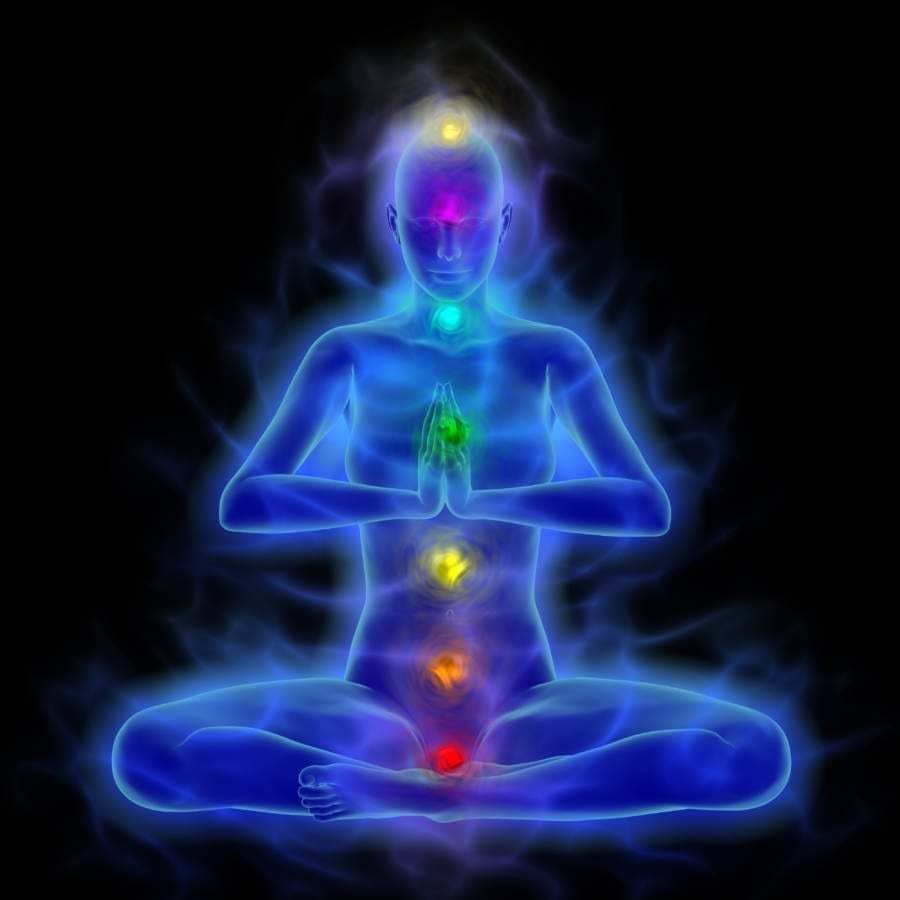 Energy work is based on the belief that everyone has a "life force", and that the body needs to sustain its balance for optimum health. Anytime you experience emotional or physical illness, it indicates that your life force has simply become unbalanced. I work directly with your energy field to restore balance and flow to your entire system. And once your energy field has been restored to full health, your body will follow.
Express Foot Therapy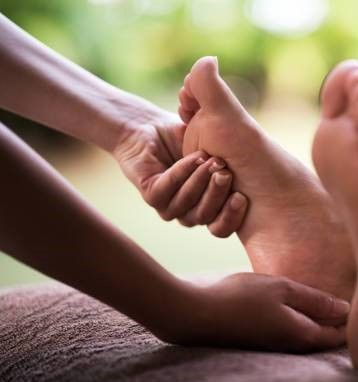 Specialized foot massage intended to relieve pain tension in the feet caused by issues such as plantar fasciitis, neuropathy, foot and ankle injuries, and normal wear and tear from extensive overuse. During this session we use a blend of techniques including Deep Tissue, Neuromuscular Therapy, Shiatsu, Proprioceptive Neuromuscular Facilitation (PNF) stretching, and the science of Reflexology, form of bodywork that focuses on applying pressure to the specific nerve zones in your feet. Thus, creating a far more in-depth experience that aims to harmonize your entire body. Usage of reflexology treatments have also been found to be highly effective for conditions such as allergies, headaches, and depression.
Pair with a Sugar Foot Scrub for enhanced benefit and relaxation! $10 extra with this service only.
Enhancements
Add even more to your customized massage by indulging yourself with one or more of these great enhancements. Unless you request a time upgrade or extension, these services do not add time to your session. Depending on the flow of the service you choose they may deduct from the hands-on time.
Aromatherapy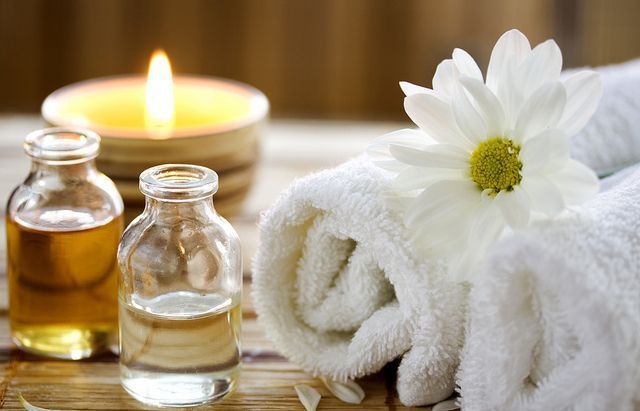 Aromatic essences from plants are used to balance, harmonize and promote the health of your body, mind and spirit.
Aromatic Scalp Massage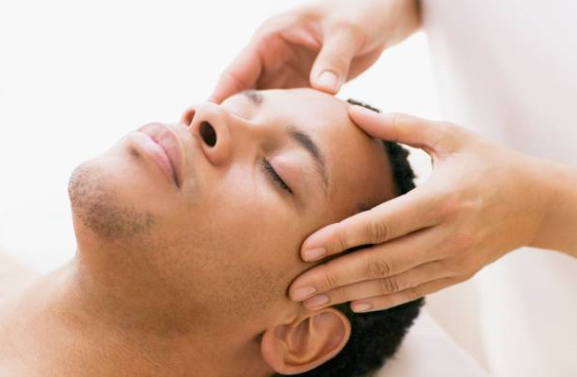 Combined techniques of cranio-sacral suture tracing and fascial scalp massaging enhanced with the addition of your choice of peppermint or lavender essential oil to deepen relaxation and promote better blood and cerebral fluid circulation.
Heatwave
Experience the "SYNERGY" of soothing warmth, custom pressure, and rhythmical motion with a Hand-Crafted Synergy Stone integrated into your customized massage creating a relaxing and therapeutic sensation that you'll be sure to love.
Sugar Foot Scrub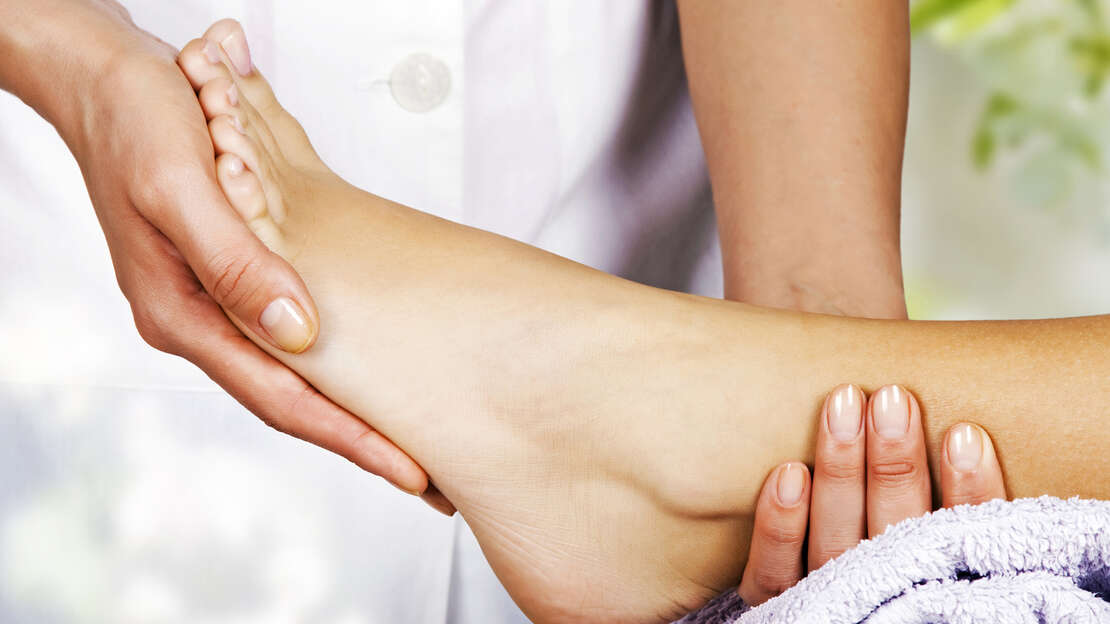 Soothe tired and achy feet with a relaxing scrub that exfoliates, moisturizes, and stimulates blood flow which can alleviate a number of issues that can be caused by poor circulation.
Full Body Scrub
Cleanses the skin from bacteria, dirt and dead skin cells by the process of vigorous rubbing down the skin resulting in a remarkable new fresh skin all over again.
Medi-Cupping (VacuTherapy)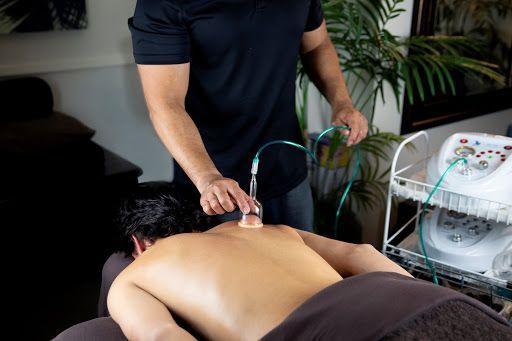 A gentle approach to many common conditions that produces remarkable results using glass cups and a machine that performs straight suction and pumping movements. The soothing suction and light vibrations on the surface of the skin, created by the machine, reach deep into the muscle tissue causing nervous system sedation, increased circulation, and lymphatic drainage. These treatments aid in the separation of fused layers of tissue that allows for deeper work which loosens adhesions and increases mobility within the muscle.
Mini Facial
Pamper yourself with this relaxing service consisting of a facial cleansing, toning, and moisturizer, followed by a relaxing head, neck, and shoulder massage.
Deep Cleansing Facial Massage
Indulge yourself even more with this relaxing skin healthy, service consisting of a facial cleansing, toning, moisturizer, and multivitamin masque, followed by a relaxing head, neck, and shoulder massage.
Hot Stone Facial Massage
Hot stones placed on your face will melt away tension and fatigue. Warm, smooth stones are used to gently massage the face and neck, as circulation is stimulated and toxins are eliminated, but other benefits include firming, toning and excess fluid removal. Hot towel wrap and cleanse with after hot stones treatment optional. (Service can be booked as add on or stand alone session.)